Altilis Nutrition Animale is co-led by :
Laurent BASTIDE, CEO
Philippe LE NY, Director of Market Development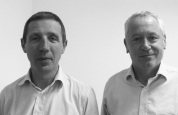 Our experience in animal nutrition taught us, Philippe Le Ny and myself, that we cannot build a sustainable business without the trust of our customers and our manufacturers. This confidence cannot be imposed, it is earned. This is the permanent objective we set for all employees of Altilis Nutrition Animale in their relations with all our partners.
Laurent Bastide,
CEO